Set Your Pants Goal before You Detox
We've been talking about the benefits of detoxing as part of an overall wellness plan. Hopefully, you have considered the process and are ready to give it a try. Before you begin, it's important to remember that detoxing is not a quick fix. It is part of a lifestyle that includes healthful eating, exercise, positive family and social relationships, rest, and relaxation. It is part of continuing your commitment to self-care, and working toward better health and wellness.
Are you ready? If so, think about how you have been feeling. Make a list of the physical and emotional challenges you face. Now, think back to a time when you felt your best. What did that look like? Were you exercising more? Did you have more energy? Were you at your ideal weight? Hold onto that image and let it guide you in setting goals so you can once again feel your best.
If you want to start with a fun fashion goal, rummage through the back of your closet and dig out your old favorite pair of pants. We all have them – the ones we hold onto for when we lose a few pounds. Hang them where you will see them, and let them be a visual reminder of your goals.
Next, measure your waist and hips, using a cloth tape measure. Start by measuring your natural waistline. (Bend to one side – your natural waistline is located at the crease.) For hip measurements, start on one side and wrap the tape measure around the fullest part of your rear, then back to where you started. Whatever your numbers, write them down. Next to them, jot down a realistic short-term goal. How many inches would you like to decrease your waist or hips by? Make the goal an attainable one.
Once you have an image of how you want to look and feel, it's time to start your cleansing program. Remember: Remove, Restore, Revitalize, Replenish!
When you complete the detox, measure yourself, again, in the same places on your waist and hips. If you followed the program faithfully, you will likely see a decrease in your numbers, and will be off to a good start toward reaching your goal. To top it off, you will most certainly feel better and have more energy. So go ahead and try on those old favorite pants. How do they fit now? Can you feel the difference? Even if you still have work to do, celebrate your successes and know that you are doing a great job.
---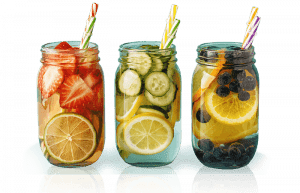 21 Days To Detox
Remove toxins and restore your digestive system to healthy functioning in only 21 days with this detoxification and cleansing program! All products needed for the cleanse and detoxification are included in the program cost ($150 value). Find out more!